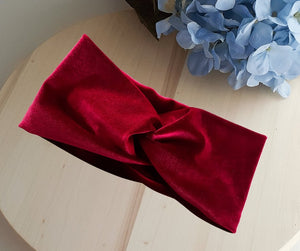 Red Velvet Twist Headbands
Regular price $17.00 Sale
Design: Red Velvet Twist Headband
Images shown in other colours/fabrics are purely for example only - to show the Headband style.
More:
 The TwistKnot 
Headband is made of two pieces of fabric, making a cross over 'twist' at the front. 
Sizing:  
Small - Toddler - 3yrs
Medium - Adult - 3yrs +
 Sizes are an approx.
Please note: items colour may differ from monitor to monitor. Pattern placement may vary to the pictured item.
This twist headband may be made to order - please allow 1-3 business days for the order to be created, additional to shipping days. 

Shipping charges are flat rate, and include a tracking number.
Upon dispatch, an email will be sent to you, which will include tracking details. Please ensure all details, including email address, are correct at checkout.